Tyson Fury has endorsed Daniel Kinahan for prime minister on the same day that it was claimed he has split with his controversial advisor.
The WBC heavyweight champion posted a photoshopped picture of himself and Kinahan on his Instagram story, with the words 'Like Donald, Dan For PM', adding an Irish flag below the message.
The post came hours after Fury's American promoter Bob Arum claimed that they will no longer work with Kinahan, who Fury credited with brokering the agreement for two super-fights between himself and Anthony Joshua in 2021.
"I'm just after getting off the phone there with Daniel Kinahan," Fury said in a video posted on his twitter account two weeks ago.
"He's just informed me that the biggest fight in British boxing history has just been agreed.
"Big shout out Dan, he got this done. Literally over the line. Two fight deal."
Fury has credited Kinahan in the past with helping to motivate him to get back into the gym and regain his heavyweight titles, which he sacrificed after his downward spiral into issues with drink, drugs and depression following his 2015 victory over Wladimir Klitschko.
But Kinahan's name was brought up in the Irish government following the announcement of the Joshua agreement, with Taoiseach Leo Varadkartelling the Dáil that he is a man with "a chequered history in this State and elsewhere".
Kinahan is regarded as boxing's newest power broker. The son of convicted drug dealer Christie Kinahan, he founded the boxing management group MTK Global in 2012 and currently lives and works in Dubai. He is also a person of significant interest to the Gardaí, the state police force of the Republic of Ireland. Only last month, Mr Justice Tony Hunt accepted evidence at Dublin's Special Criminal Court that the Kinahan organised crime group was involved in organised drugs and firearms dealing on "an international scale" and that it has used "execution style" murders to protect its interest. In 2018, a Spanish police officer told a court in Marbella that Kinahan ordered the murder of a gang rival on the Costa Del Sol in 2015. He is banned from entering the US and his name allegedly appears on target lists at the CAB, the Drug Enforcement Agency and the FBI.
Kinahan has no criminal convictions.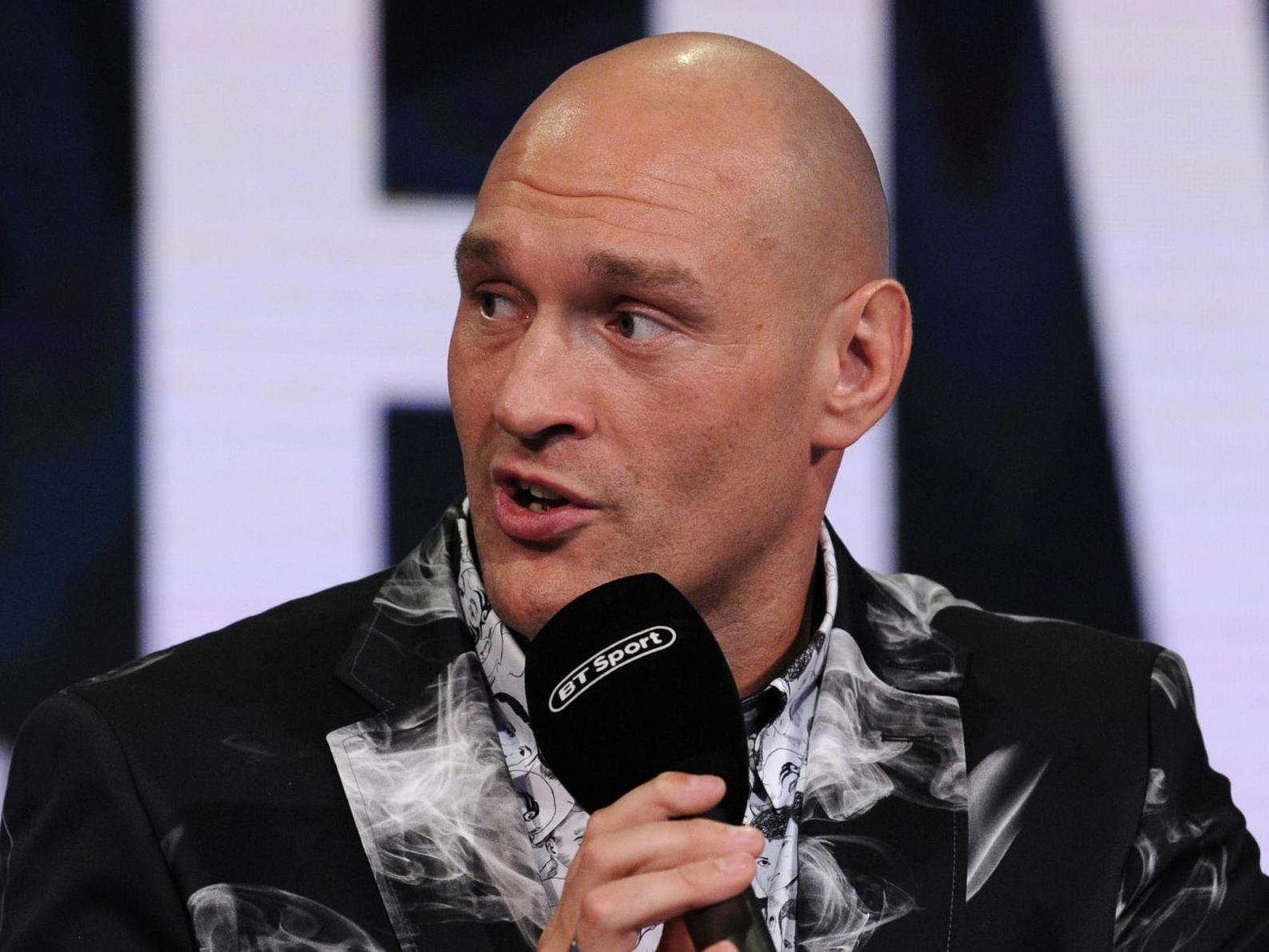 News of his significant role in one of the biggest sporting events of recent times was met with a predictably disgusted reaction in his native country. Fine Gael politician Neale Richmond published a scathing statement that denounced Kinahan as "evil", while The Irish Daily Star announced they would not cover the fight. "This is an insult to victims," the tabloid announced at the front of the book. "Those who support Kinahan's moves in professional boxing should stand ashamed – he is a cancer on the sport."
The backlash prompted talks between Fury and Top Rank promoter Arum – who handles his business in the United States and landed his lucrative TV deal with ESPN – and an agreement has been reached for the American to handle Fury's future negotiations along with his long-time British promoter Frank Warren.
"Over the weekend I've had a lot of conversations with Tyson Fury and what we both decided is that myself, Top Rank and Fury will do all negotiations for fights in the future," Arum told The Telegraph.
Whether it's for Joshua or Wilder or anybody else. We've informedEddie Hearn about that. He knows where to go for the negotiations. Tyson and I have had long negotiations about it. That's the way it's going to be.
"This will eliminate a lot of confusion. We've talked with Dan, who Tyson and I both love and admire and respect, and he understands that it's best the negotiations on Tyson's side be handled that way. Both Tyson and I have each discussed this with Dan and he is amenable and satisfied and wished us luck. He only wants the best for Tyson Fury.
"Eddie (Hearn, Joshua's promoter) has been informed of that. First of all there's the negotiations to finalise for Deontay Wilder. We will do that on Tyson's behalf with Premier Boxing Champions. But when I say Bob Arum, I mean Top Rank people. We're one entity. We're working now with venues in Nevada and in Texas to do that Fury-Wilder sometime in December. And also to negotiate with Eddie and Joshua and with any site that will make a proposal for the Fury-Joshua fight, assuming Joshua beats Pulev and Fury is successful with Wilder." Must See
Nemo enim ipsam voluptatem quia voluptas sit aspernatur aut odit aut fugit, sed quia...

Temporibus autem quibusdam et aut officiis debitis aut rerum necessitatibus saepe eveniet ut et...